Summer 2017
Recent studies show that Primary Care Providers see almost two thirds of people who are treated for depression; prescribing 79 percent of antidepressant medications.1 This makes these providers the first line of response when it comes to antidepressant medication management (AMM), a crucial component of treatment and symptom control.
Unfortunately, there are consistently high levels of non-compliance among patients when it comes to antidepressant medication. It has been found that those who only partially follow or discontinue medication do so without the consultation of their physicians, including their Primary Care Provider. The failure to follow an antidepressant regimen results in increased risk of relapse, suboptimal treatment and poor quality of life. 2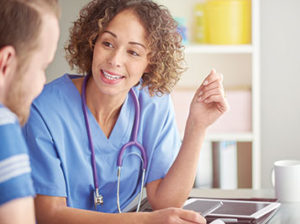 Beacon Health Strategies has been working on a variety of initiatives to raise awareness about the objectives of National Committee for Quality Assurance (NCQA) Healthcare Effectiveness Data and Information Set (HEDIS) AMM measures, which guide Neighborhood's efforts in measuring the quality and effectiveness of the care provided. The AMM measures specifically focus on follow-up care for those prescribed antidepressant medication.
What are the HEDIS AMM measures?
After an initial diagnosis of depression and prescription of an antidepressant medication, regular follow-up visits are recommended to support patients so that they:
1. Remain on antidepressant medication for at least 84 days (Effective Acute Phase)
2. Continue taking antidepressant medication for at least 180 days (Effective Continuation Phase).
What are the best practices regarding these HEDIS measures?
Recommendations for ensuring adherence include providing discussion and educational materials around the following:
When will the medication start working and how will your patient know if it's working?
What will it feel like to be on the medication?
How long will he or she need to be on the medication?
What are the possible side effects and what should the patient do if he or she experiences any?
Stress importance of continuing medication, even if he or she is feeling better.
Reiterate the importance of attending follow-up visits.
What is the relevance of these measures?
According to NCQA's "State of Health Care Quality 2013" report:
Although there are known, effective treatments for depression, less than half of those affected with depression receive treatment.
Appropriate dosing and continuation of medication therapy through short- and long-term treatment of depression decrease its recurrence.
Clinical guidelines for depression emphasize the importance of effective clinical management in increasing patients' medication compliance, monitoring treatment effectiveness and identifying and managing side effects.
---
1 Barkil-Oteo, Andres. (2013). Collaborative Care for Depression in Primary Care: How Psychiatry Could "Troubleshoot" Current Treatments and Practices. Yale Journal of Biology and Medicine, 86(2), 139-46.
2 Ellis, R., Heise, B. A., & van Servellen, G. (2011). Factors associated with antidepressant medication adherence and adherence enhancement programmes: a systematic literature review. Mental Health in Family Medicine, 8(4), 255-71.