Summer 2017
UNITY/ Rhody Health Options members receive wellness assessments upon enrollment into the plan to identify health concerns and needed resources to help members maintain independent living in the community. If a risk of falling is identified during the wellness assessment, our Rehab Specialist completes a safety evaluation within the member's home.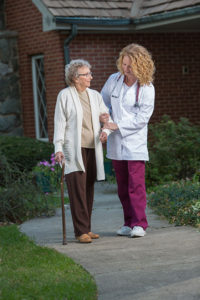 However, integration of fall assessments into annual history and physical examinations by a member's provider is also crucial.  The CDC recommends that patients who have fallen in the past year, worry about falling, or feel unsteady when standing/walking should have gait, strength and balance evaluated. Outcomes of these 30 second tests will help determine interventions for reducing falls risk with your patients.
Falls are one of the most common mechanisms of injury with the elderly population. According to the CDC, more than one out of four older people fall each year, but less than half actually tell their doctor. Falls are not a part of normal aging (although many people think otherwise) and most falls can be prevented. Debunking the myths of older adult falls and promoting greater awareness and understanding with patients and their family members will help reduce fall risk.
Additional resources such as screening checklists and assessments may be found on the CDC website.