Fall 2020
Neighborhood cares about our members and our community. We know you do, too! We're helping to keep our communities well in a variety of ways during these challenging times.
Community Outreach
Neighborhood has a team of representatives in the community sharing resources like safety kits, information on how to get health insurance, how to stay healthy and more. Plus, our team is creating videos in many languages to reach a wider audience. These videos cover tips on staying healthy during the COVID-19 pandemic, how to get access to resources and more. Check out our health tip videos on YouTube.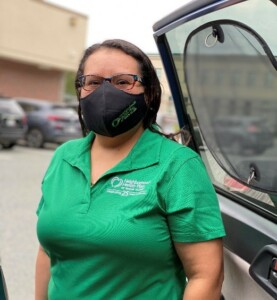 Pictured: Ericka Moore, Sales-Marketing Representative
Neighborhood REWARDS
Another way we're encouraging members to stay healthy is through Neighborhood REWARDS. With the Neighborhood rewards program, members may be eligible to receive $25 gift cards for healthy behaviors like going to their annual check-up or for getting certain screenings and immunizations. Members need to have their reward form filled out at their provider's office to receive their reward. Visit the rewards section of our website for more information on Neighborhood REWARDS.
Our Member Advocate
If members have urgent or complex issues, our Member Advocate Rita Towers helps by removing barriers to health care services they need to stay healthy. Rita works with internal and external departments and partners to ensure members with complex issues are able to access the care they need to stay well. To reach Rita, call 401-427-7658.