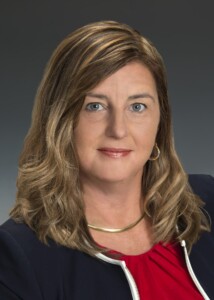 September 21, 2020 (Smithfield, RI) – Neighborhood Health Plan of Rhode Island (Neighborhood), a not-for-profit health plan founded to serve Rhode Island's at-risk populations, has appointed Michelle Sears vice president of finance. In this position, Sears will leverage over 22 years of finance and accounting experience to lead and provide oversight to Neighborhood's Finance Division. She will be responsible for the health plan's financial close and audits, revenue recognition, budgeting, and financial analysis. Sears will also serve as the finance contact for external entities, including the Rhode Island Executive Office of Health and Human Services and the Rhode Island Department of Business Regulation.
"As an accomplished financial health insurance professional and a seasoned leader in the managed care industry, Michelle is exceptionally qualified to impact growing health care costs while supporting Neighborhood's commitment to delivering the best possible health care to our members," said Frank Meaney, chief financial officer of Neighborhood. "Maintaining our financial strength and compliance is critical as is implementing financial reporting and analysis that result in actionable information. Michelle has demonstrated tremendous success in these areas and others, and is a great addition to our leadership team."
Before joining Neighborhood, Sears held several finance leadership positions at Health New England –a non-profit health plan in Massachusetts – during her 20-year tenure. In her most recent position, director of financial services, she was responsible for serving as the chief financial officer for Accountable Care Organization (ACO) Baystate Health Care Alliance, providing oversight of internal and external actuaries, Finance Optimization Committees, and line of business variance analytics; as well as crafting financial models to support the strategic planning and execution of the executive leadership team. Sears also held the position of interim chief financial officer at Health New England.
Sears applies the skills she has learned throughout her profession to support important community initiatives. Since 2017, she has served on the board of directors as well as the executive and finance committees for the Women's Fund of Western Massachusetts (WFWM). The WFWM connects donors with the lives of local women and girls through strategic grant making and leadership development.
Sears received a Bachelor of Science in business administration with a concentration in accounting from Westfield State College and a Master of Business Administration from Our Lady of the Elms College. She is a Certified Health Insurance Executive (CHIE) and a resident of Granby, Massachusetts.
ABOUT NEIGHBORHOOD:
Neighborhood Health Plan of Rhode Island is a not-for-profit health insurance plan. We currently serve about 200,000 members in the state. Nearly 80 percent of our membership is Medicaid eligible through our ACCESS and TRUST plans while 7 percent of our members utilize our INTEGRITY Medicare-Medicaid Plan (MMP). About 14 percent of our membership represents individuals, families and small businesses who select one of eight Neighborhood commercial plans available through the health exchange, HealthSource RI. Of these members, about 85 percent qualify for federal subsidies to cover a portion of their costs.
In December 1993, Neighborhood was founded in partnership with Rhode Island's Community Health Centers. We served our first 1,490 members in December 1994, and by 2000, we grew to 50,000 members. Starting in November 2013, Neighborhood doubled its membership, revenue, and staff through the introduction of the Affordable Care Act and state leadership's decision to extend coverage to more Rhode Islanders.
In December 2019, we celebrated 25 years of service. Since 2001 – for 19 consecutive years – the National Committee for Quality Assurance (NCQA) has rated Neighborhood one of the top Medicaid health plans in America. Since 2014, our commercial plans have earned NCQA's highest accreditation level.  Today, Neighborhood – with 500 employees and $1.4 billion in revenue – serves one out of every five Rhode Islanders.
Learn more at nhpri.org