Longtime gift-drive program for area children in need generates 750 presents
December 11, 2020 (Smithfield, RI) – Determined to prevent the pandemic from dampening holiday spirits, Neighborhood Health Plan of Rhode Island (Neighborhood) rallied its staff and redesigned its seasonal giving program to ensure a joyous holiday season for underserved children in the greater Providence area. Now in its 19th year, the program – typically an extension of the National Education of Association of Rhode Island's Gingerbread Express initiative – yielded 750 gifts from staff, for children ages 6 to 10. To get the gifts into the right hands and hearts after this year's Gingerbread Express initiative was cancelled, Neighborhood pivoted and partnered with Tides Family Services and the McAuley House, dividing the wrapped gifts into 250 large gift bags so each child will receive a toy or game, a book, and a set of hat and mittens.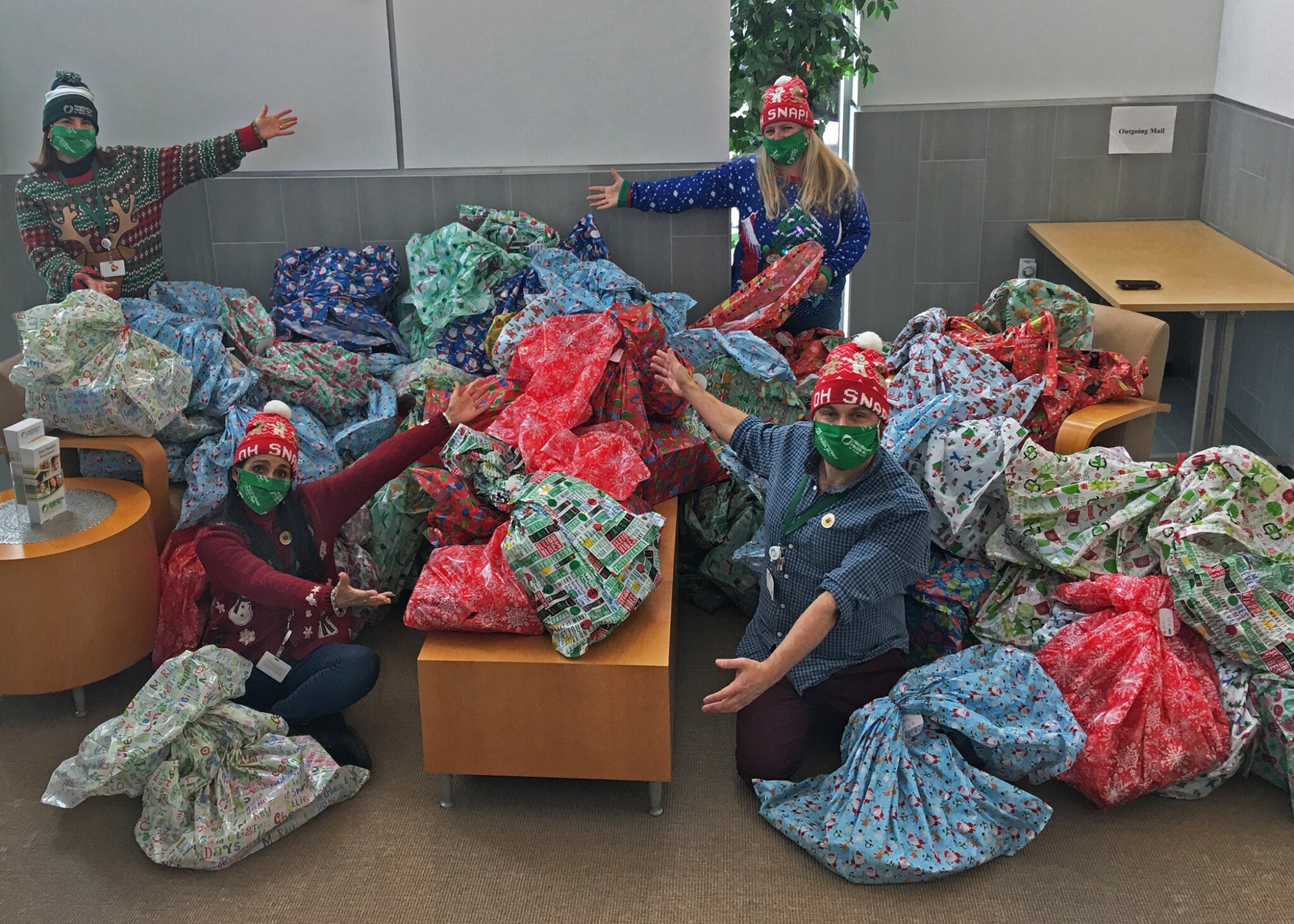 "Through ingenuity and a passion for this seasonal giving program, our staff and leaders came through once again for children in need," said Brenda Seagrave-Whittle, chief marketing officer of Neighborhood. "While we had to reimagine almost every aspect of the program this year – from sign-ups, to the drop-offs and packaging of gifts, to the organizations we partnered with – the one element that remained the same was the giving spirit of our Neighborhood family. As a result of everyone's generosity across the organization, 250 children who may have gone without gifts this year, will have a smile on their faces over the holidays. This thought warms our hearts."
In mid-November, Neighborhood began reaching out to staff about how this year's program would be handled in light of the public health crisis. Not long after, online signups surpassed the health plan's goal and staff used a web scheduling tool to plan a time to safely drop off at Neighborhood the gifts they had purchased and wrapped. While staff remained in their vehicles, a handful of socially-distanced, mask-wearing "elves" popped open car trunks to gather the gifts for sorting. The program culminated this week when the "elves" carried 250 gift bags from Neighborhood's lobby through the front doors – headed to the children served by Tides Family Services and the McAuley House.
This effort is one of several charitable initiatives Neighborhood has undertaken this holiday season. The health plan has also been focused on sending meals to health care workers at the state's community health centers and at hospitals, and to staff at the Rhode Island Community Food Bank.
ABOUT NEIGHBORHOOD:
Neighborhood Health Plan of Rhode Island is a not-for-profit health insurance plan. We currently serve about 200,000 members in the state. Nearly 80 percent of our membership is Medicaid eligible through our ACCESS and TRUST plans while 7 percent of our members utilize our INTEGRITY Medicare-Medicaid Plan (MMP). About 14 percent of our membership represents individuals, families and small businesses who select one of eight Neighborhood commercial plans available through the health exchange, HealthSource RI. Of these members, about 85 percent qualify for federal subsidies to cover a portion of their costs.
In December 1993, Neighborhood was founded in partnership with Rhode Island's Community Health Centers. We served our first 1,490 members in December 1994, and by 2000, we grew to 50,000 members. Starting in November 2013, Neighborhood doubled its membership, revenue, and staff through the introduction of the Affordable Care Act and state leadership's decision to extend coverage to more Rhode Islanders.
In December 2019, we celebrated 25 years of service. Since 2001 – for 19 consecutive years – the National Committee for Quality Assurance (NCQA) has rated Neighborhood one of the top Medicaid health plans in America. Since 2014, our commercial plans have earned NCQA's highest accreditation level.  Today, Neighborhood – with 500 employees and
$1.4 billion in revenue – serves one out of every five Rhode Islanders.
Learn more at nhpri.org